ITINERARY
DAY ONE:
Morning pick up at hotel. 4x4-car drive up mountains to high land forests. See spectacular view. One of the most beautiful place in Thailand. Rough road passing through Karen territory Ban Nam Hu, Ban Huai Hii, Ban Nong Khao, Ban Huai Mai Dam. We can stop to visit villagers in some of the villages. Stop for our picnic lunch at the nicest place. Afternoon we start walking to Ban Hua Ha(Moe hill tribe) This day trekking will be little short day walks, afternoon arrive to Ban Hua Ha, spend the night in village.
DAY TWO:
Morning wake up early feel the cool mountain air when heavy morning fog, get good breakfast. We start long walking climb up hills to higher land. This day you will see different view of landscape and we will hike through hill evergreen forest. Visit to Lisu village Ban Nam Yen. Afternoon hike to Ban Doi Makprik(Other Lisu people) Spend the night with Lisu people. Learn about their culture.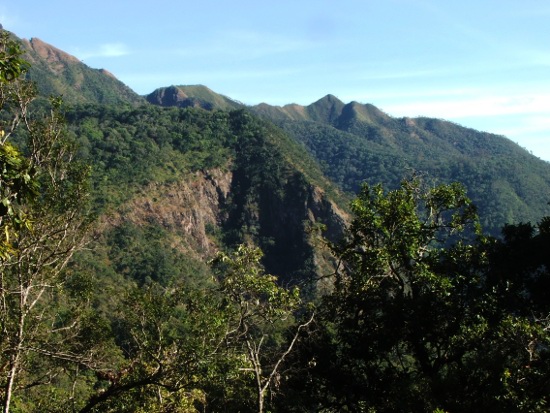 DAY THREE:
After good breakfast. We will walks down hills along rough and bushy local trail, to visit Karen village Ban Pa Ka. Get in touch with local people and long stop for lunch break in village. Afternoon start nice an easy walking. See slash and burn rice fields. Today we will stay in Karen village at Ban Huai Pom Fart. Learn about Karen people and their culture. Thailand trekking
DAY FOUR:
Today we will climb up hills again to Doi Sa ngo. Passing through watershed forests where sources of many creeks. See several different types of forests, hill evergreen, jungle, Pine, palms and bamboo forests. At the saddle passage see massive sedimentary rock formation and will be the place we will have our lunch. Afternoon walking down to Ban Hua Nam (where Maehongson river begin) this day there are many hills to climb up and many steep slope to climb down, on a very interesting trail and lots of thing to see along the way. Afternoon arrive to village. Stay overnight in Ban Hua Nam with Karen people.
DAY FIVE:
After you got your good breakfast. We are starting our last day hike. This day we hike down hill. Pass through farmland terrace paddy fields. Local trail led you down to evergreen ravine forest, at the bottom we hike along creek, you have to walk through water, and there will be many rivers cross. You need a pair of good hiking sandals. Experience walking through water you will find it fun. See waterfalls, gorges, Cliffs. Along creek you wonder about, giant Bamboo. Teak Wood Tree. Rose Wood Tree. Dipterocarp tree. Giant lianas. Figs. Rose Apple Tree. Rambai tree. Bread fruit Tree. Wild banana. Riverside plant arums, ferns, forrestea. Mushroom and Fungi. Afternoon we got out of creek arrive at terrace rice field in low land valley, see man made irrigation dam and it canals system. You will be finish the treks in the late afternoon and a car take you back to Maehongson. END. What you gain to see and learn from my trekking: Vegetation and animals in the nature reserve from low land to high land:
TREES AND SHRUBS.
Teak, Rose Wood, Mahogany, Ebony, Pines, Figs, Oaks, Chestnuts, Magnolia, Dillenias, Coral tree, Butea, Giant Kapok, Eugenias, Black vanish, Dipterocarps, Hopea, Iron Wood, Shoreas, members of the Erica family, Wild Tea, Cinnamon Tree, sterculia tree, Palms, Cycads tree, Ferns tree. Wild Banana, And many different typical of Bamboo. Etc.
FOREST FLOOR PLANTS.
Wild Bananas, Begonias, Wild Gingers, Gentians, Forrestia, Black lily, Commelina (Spiderworts), Lily, Mimosas, Morning glory, Ferns, Balanophora, Rafflesia. Diversity of Fungi, Mushroom and Toadstool.
EPIPHYTES PLANTS.
Wild Orchids. Ferns. Dichidias. Figs. Mosses. Lichens. Etc.
ANIMALS in the area:
Tiger [very rare], Leopard Cat, Golden Cat, many smaller cats, Wild Pigs, Seraw and Goral Goats, Sambar Deer, Barking Deer, Monkeys, Gibbons, Langurs, Slow Loris, Porcupine, Rodents, Badgers, etc.
SNAKES:
King Cobra, Asiatic Cobras, Green Vipers, Rat Snakes, Rock Python, Reticulated python, Whip snakes, Flying snakes, Cat snakes, etc.
LIZARDS:
Clouded Monitor, River Monitor, Geckos, Skinks, Agama lizards, Oriental long-tailed lizard, Flying Lizards, Water lizard, etc.
BIRDS:
Great Hornbill, Pied Hornbill, Great Barbet, Black Bulbul, Dusky Broadbill, Frog Mouths, Hawks, Eagles, Green Peafowl, Pheasant, Jungle Fowl, Green Pigeons, Drongos, Sunbirds, Woodpeckers, etc.
BUTTERFLIES & MOTHS:
Imperial Butterfly, Paris Peacock, Rose Swallowtail, Orange Albatross, Indian Leaf Butterfly, Peacock Royal, Bird-wing Butterfly, Jungle Queen,Cruiser Butterfly, Clipper, Skippers, Monarch, Blue Crow, Atlas Moth, Moon Moth, Owl Moth, Hawk Moth. Etc.
OTHER INSECTS:
Walking Stick, Leaf Insect, Pray Mantis, Beetles, Lady-Birds, Daddy long-legs, Assassin Bugs, Sweat Bees, Bush cricket, Grass Hoppers, Wasps, Ant-lion, Water scorpion, Water bugs, Spiders, Tarantulas. Etc.